on Saturday, March 30, 2013. Filed under:
Cakes
,
Dessert
,
Lemon
,
Lemon Cake
,
Sweet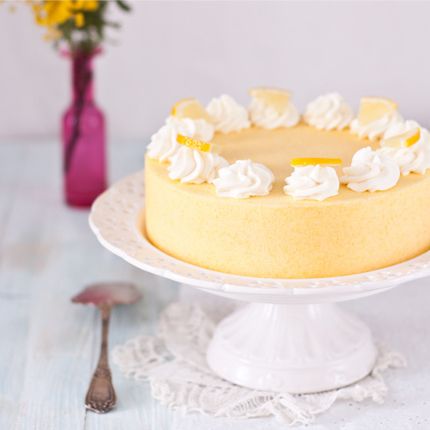 Category: Cake
Yield: Serves 12
Prep Time: 15 min | Total Time: 45 min + Cooling
Ingredients:
1 cup (2 sticks) unsalted butter, room temperature, plus more for pans
2 1/2 cups all-purpose flour (spooned and leveled), plus more for pans
1/2 teaspoon baking powder
1/2 teaspoon baking soda
1 teaspoon salt
2 1 tablespoon lemon zest
2 cups sugar
2 large eggs plus 3 large egg yolks
1/4 cup plus 2 tablespoons fresh lemon juice
1 cup low-fat buttermilk
1 lemon, thinly sliced and seeded
Directions:
Preheat oven to 350 degrees. Butter and flour two 8-by-2-inch cake pans, tapping out excess flour. In a medium bowl, whisk flour, baking powder, baking soda, salt, and lemon zest.
In a large bowl, using an electric mixer, beat butter and 1 1/2 cups sugar until light and fluffy. With mixer on low, beat in eggs and yolks, one at a time. Beat in 2 tablespoons lemon juice. Alternately beat in flour mixture and buttermilk beginning and ending with flour mixture; mix just until combined.
Divide batter between pans; smooth tops. Bake until cakes pull away from sides of pans, 32 to 35 minutes. Let cool in pans 10 minutes. Run a knife around edges of pans and invert cakes onto a wire rack.
While cakes are baking, bring remaining 1/2 cup sugar and 1/2 cup water to a boil in a saucepan. Add lemon slices and simmer 25 minutes. Using a slotted spoon, transfer lemon slices to a waxed-paper-lined plate. Stir remaining 1/4 cup fresh lemon juice into syrup.
Using a toothpick, poke holes in warm cakes on rack. Brush with lemon syrup. Let cool completely. Prepare frosting, substituting 2 tablespoons fresh lemon juice for vanilla extract. Frost cooled cakes and top with candied lemon slices.
Cook's Notes:
When making frosting, substitute 2 tablespoons fresh lemon juice for the vanilla extract.