on Tuesday, March 26, 2013. Filed under:
Apple
,
Apple Cinnamon Ice Cream
,
Cinnamon
,
Dessert
,
Ice Cream
,
Sweet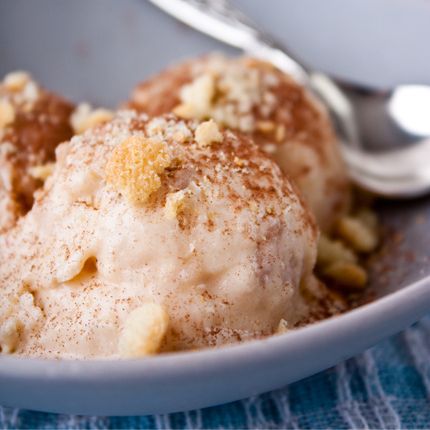 Category: Ice Cream
Yield:
4 servings
Prep Time: 10 min | Cook Time: 15 min
Ingredients:
2 cups low fat milk
1 cup sliced apples
1 tbsp skimmed milk powder
1 tsp cornflour
2 tsp low fat cream
2 tsp sugar substitute
a pinch of cinnamon (dalchini) powder
3 to 4 drops of lemon juice
For the filling:
Directions:
Add ½ cup of water to the apples and cook it in a non-stick pan for 8 to 10 minutes till they turn soft. Remove from flame and keep aside.

Combine the milk powder and cornflour with 1 tbsp cold milk in a bowl and keep aside.

Boil the milk in a non-stick pan, when it starts boiling add the milk powder and cornflour mixture while stirring continuously.

Simmer for 5 to 7 minutes till the milk thickens and keep aside to cool.

To the cooled mixture add the apples, cream, sugar substitute, cinnamon powder and lemon juice and mix well.

Pour the mixture into an aluminium vessel, cover it and place in the freezer for 3 to 4 hours.

Once the mixture has set, remove from the freezer and blend in a mixer till it is smooth.

Pour the mixture into the same vessel, cover and place it in the freezer again till it sets.

Just before serving, place the scoops of ice-cream in 4 individual bowls.

Serve immediately garnished with apples.