on Monday, April 8, 2013. Filed under:
Cookies
,
Dessert
,
Food
,
French Macarons Recipe
,
Macarons
,
Meringue
,
Meringue Macarons
,
Recipe
,
Sweet
,
Yum
,
Yummy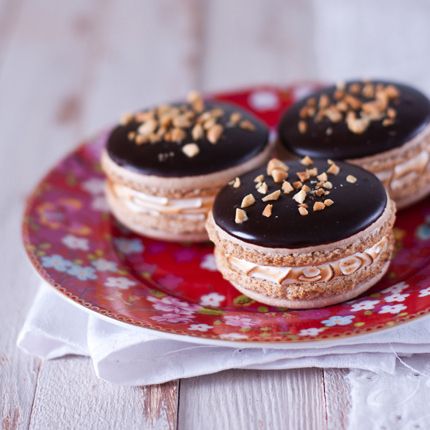 Category: Macarons
Yield: makes 35 macarons

Ingredients:
For the Macarons:
2 1 cup confectioners' sugar
3/4 cup almond flour
2 large egg whites, room temperature
Pinch of cream of tartar
1/4 cup superfine sugar
Suggested Fillings for Macarons:
Chocolate: Chocolate Ganache
Coconut: 1 cup Swiss Meringue Buttercream, mixed with 1/3 cup angel-flake coconut.
Peanut: Chocolate Ganache, or store-bought dulce de leche, jam, or peanut butter.
Pistachio: 1 cup Swiss Meringue Buttercream, mixed with 1/3 cup finely chopped pistachios.
Raspberry: 3/4 cup seedless raspberry jam
Swiss Meringue Buttercream
Directions:
Pulse confectioners' sugar and almond flour in a food processor until combined. Sift mixture 2 times.
Preheat oven to 375 degrees. Whisk whites with a mixer on medium speed until foamy. Add cream of tartar, and whisk until soft peaks form. Reduce speed to low, then add superfine sugar. Increase speed to high, and whisk until stiff peaks form, about 8 minutes. Sift flour mixture over whites, and fold until mixture is smooth and shiny.
Transfer batter to a pastry bag fitted with a 1/2-inch plain round tip, and pipe 3/4-inch rounds 1 inch apart on parchment-lined baking sheets, dragging pastry tip to the side of rounds rather than forming peaks. Tap bottom of each sheet on work surface to release trapped air. Let stand at room temperature for 15 minutes. Reduce oven temperature to 325 degrees. Bake 1 sheet at a time, rotating halfway through, until macarons are crisp and firm, about 10 minutes. After each batch, increase oven temperature to 375 degrees, heat for 5 minutes, then reduce to 325 degrees.
Let macarons cool on sheets for 2 to 3 minutes, then transfer to a wire rack. (If macarons stick, spray water underneath parchment on hot sheet. The steam will help release macarons.)
Sandwich 2 same-size macarons with 1 teaspoon filling. Serve immediately, or stack between layers of parchment, wrap in plastic, and freeze for up to 3 months.
Cook's Note:
Piping the perfect macaroon takes a little practice. Treat it as you would a rosette, bringing the pastry tip to the side of the circle, rather than forming a peak, to finish.
Variations:
Chocolate: Substitute 3 tablespoons unsweetened Dutch-process cocoa powder for 1/4 cup of the almond flour.
Les Petits Macarons: Colorful French Confections to Make at Home
I thought I had to go to Paris to find these luscious confections, but now I have them in my own kitchen. Thank you Kathryn and Anne for sharing the technique and demystifying the method! With these detailed recipes and clear explanations, we can all create dazzling French macarons in every imaginable  flavor. A must for serious bakers.
Book Description:
Publication Date: October 4, 2011
Macarons, the stuff of bakers' candy-coated dreams, have taken the world by storm and are demystified here for the home baker, With dozens of flavor combinations, recipes are structured with three basic shell methods—French, Swiss, and Italian—plus one never-before-seen Easiest French Macaron Method. Pick one that works for you, and go on to create French-inspired pastry magic with nothing more than a mixer, an oven, and a piping bag.
Try shells flavored with pistachio, blackberry, coconut, and red velvet, filled with the likes of sesame buttercream, strawberry guava pâte de fruit, crunchy dark chocolate ganache, and lemon curd. Or go savory with shells like saffron, parsley, and ancho chile paired with fillings like hummus, foie gras with black currant, and duck confit with port and fig. The options for customization are endless, and the careful, detailed instruction is like a private baking class in your very own kitchen! All recipes have been tested by students and teachers alike and are guaranteed to bring the flavors of France right to your door.
Buy New: