on Sunday, March 31, 2013. Filed under:
Cheesecake
,
Cranberry
,
Dessert
,
No bake Vegan
,
No bake Vegan Cranberry Cheesecake Squares
,
Recipe
,
Squares
,
Vegan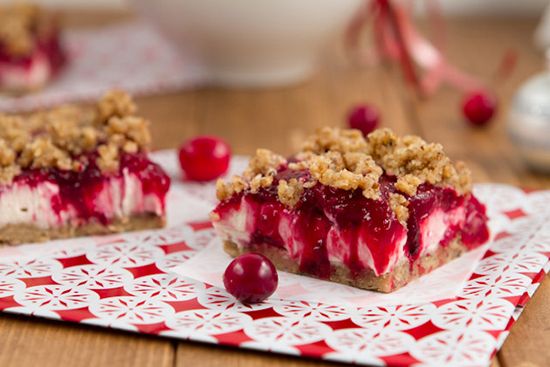 We made vegan cream cheese and now we're going to do something awesome with it. Are you ready? It's one of my favorite dairy-free recipes to date! You're going to start by making a walnut-based crust. It's just four ingredients, none of which are dried fruit. As much as I love the no bake crusts that use dried fruit and nuts, I wanted to do something different with this and ended up finding walnut flour in the process! Then, you're going to make cranberry sauce. A bit of orange zest here, some boiling there, it's a cinch. Lastly, you're going to mix your awesome, homemade, vegan cream cheese with some vanilla, coconut nectar, and BAM. Layer it all up, stick it in the fridge and you're good to go. The most painful part of the whole process is limiting yourself to one two squares per day. Hey, it's Christmas, we could all do with learning to embrace our indulgences.
For the recipe: No Bake Vegan Cranberry Cheesecake Squares
Source: healthfulpursuit.com