on Sunday, March 31, 2013. Filed under:
Blueberry
,
Breakfast
,
Buckwheat Waffles with Blueberry Maple Syrup
,
Maple Syrup
,
Recipe
,
Sweet
,
Waffles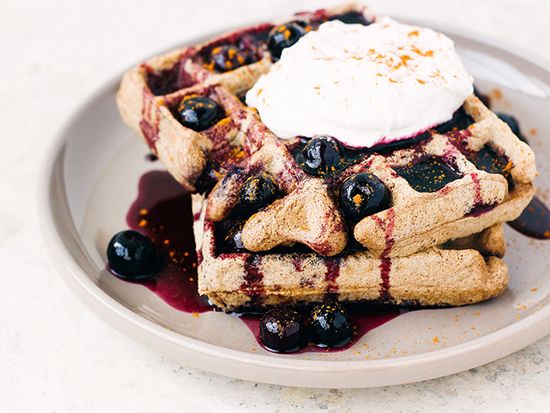 Two waffle recipes over the course of one month might seem excessive - ok, it is excessive - but this recipe is not like the other. Because this recipe is for one waffle. Just one. And I wanted so badly to call this the single lady waffle then realized it might be offensive to Thom considering this is my go-to waffle recipe and I am not a single lady. I am, however, a single lady at breakfast time because I can't remember the last morning we ate first breakfast together. Which is a shame because I really enjoy first breakfast. A lot more than second breakfast, which is usually a mug of stale coffee and a few scoops of peanut butter drizzled over an apple or banana. Are you following along? So far: first breakfast > second breakfast and, if you're single, this recipe is for you. But if you're not single, this recipe might still be for you. Like, maybe you have a significant other who sleeps in two hours past breakfast time? Yep, this waffle's for you. And if he tries telling you that this recipe technically makes enough waffles for two breakfasts, just remind him who wakes up at 6AM to go to the gym. Who spends an hour running and competing over the only good set of 35 pound dumbbells with a bunch of meatheads. Remind him who walks all the way home in the cold (COMMITMENT) with a bottomless pit for a stomach, while he's still sleeping like a baby. So he wouldn't know the first thing about eating a proper breakfast because babies don't eat that much.
For the recipe: Buckwheat Waffles with Blueberry Maple Syrup
Source: ohladycakes.com