on Thursday, April 4, 2013. Filed under:
Cookies
,
Dessert
,
Food
,
Ginger
,
Gluten Free
,
Gluten-free
,
Recipe
,
Soft and Spicy Ginger Cookies
,
Spicy
,
Spicy Ginger Cookies
,
Sweet
,
Vegan
,
Yum
,
Yummy
Let's talk comfort food, shall we? Sometimes you just need a little nibble to get you through some stressful situations, and sometimes that little nibble needs to contain all the things that make your soul feel a little warmer, a little more coddled, if you will. When I think of warming and comforting, my mind immediately wanders to the lovely rhizome ginger. It helps colds, settles tummy aches and nausea, and sometimes it makes for the perfect addition to a simple cookie. Yesterday evening,  my husband and I had quite a scare as out littlest one tumbled down our steep flight of city steps (hard hard wood that's not the most gentle on teeny tiny noggins), thankfully only leaving a few loose teeth, a bunch of bruises and a little blood, but it left every single person in our house shaken up.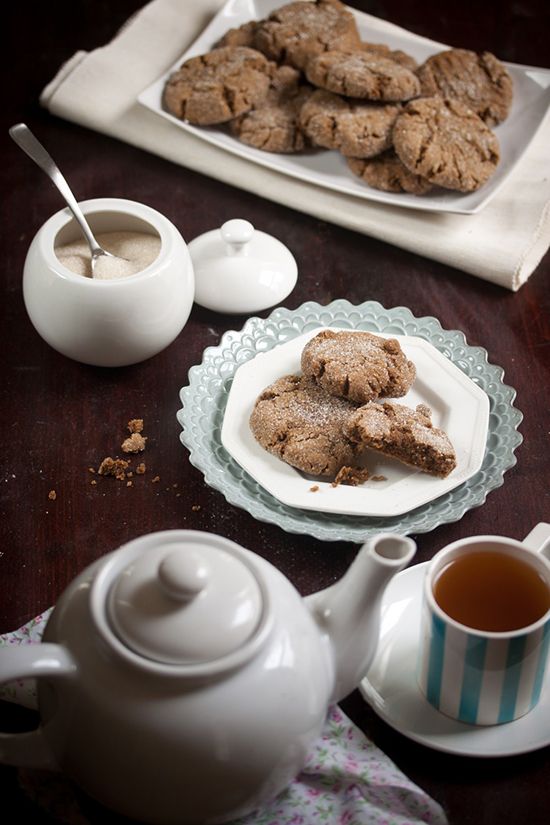 We snuggled for hours, thanked our lucky stars, and then we all fell hard and fast to sleep. When my little girl awoke, all bleary eyed, bumped, bruised and broken, she only had one request: cookies.
So, I went to work.  Since her little front toofers were aching, I knew they had to be super soft cookies.
These cookies are one of my favorites, and of course the little ones adore them too. They are a favorite around the Kramer household because they smell very fragrant while they cook (which lingers in your kitchen well after they are done baking), and once they cool, the cookies have an irresistibly soft texture that almost dissolves on the tongue with a crispy crunchy sugary coated outside. In other words, these are perfect comfort food for sad little tumblers.
For the recipe: Soft and Spicy Ginger Cookies
Source: manifestvegan.com