on Tuesday, April 2, 2013. Filed under:
Brownies
,
Dessert
,
Fig
,
Fig-Mint Brownies
,
Food
,
Mint
,
Recipe
,
Sweet
,
Vegan
,
Yum
,
Yummy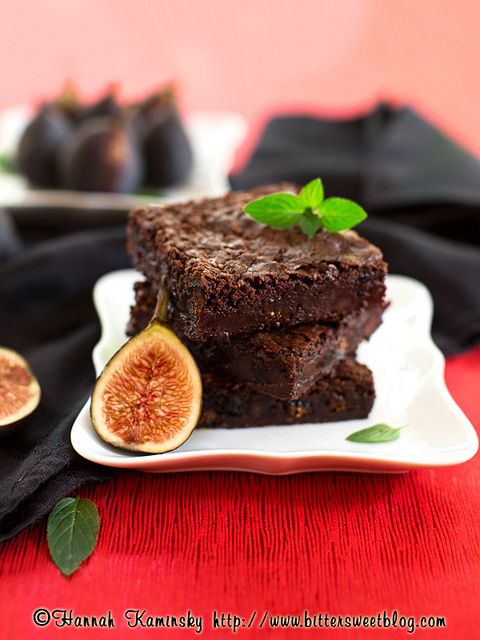 Time has a way of wearing down the rough edges, if not healing all wounds. No longer quite as embittered about all the artifice and commercial underpinnings of Valentine's Day, even without a significant other for another year, it doesn't rile me up in quite the same way any more. Gone is the angst-filled teenager adorning black t-shirts with glittery beads spelling out the words "LOVE BITES" or handing out anti-love letters to friends and frenemies alike. Truthfully, it's not all so terrible as it once appeared. Having an annual reminder to appreciate the people in your life, romantically or not, certainly doesn't hurt. Above all else though, it's an excellent excuse to splurge on dessert once more, pulling out all the stops under the guise of treating someone else. It's okay, we all know the baker wants to indulge their own tastes, too.
Chocolate is the taste du jour, so popular that no mere box of truffles could contain it. Brownies, thick, fudgy squares far more versatile than the classic little black dress, are easy to glam up for the occasion. Unintentionally adding a supposed aphrodisiac to the mix, a few dried black figs simply struck me as a perfect pairing to all cacao decadence, light and fruity with a bit of toothsome pull. Likewise, the inclusion of fresh mint seemed like the ideal way to brighten the whole treat, lest the density of these brownies overwhelm the palate.
No, it's not a figment of your imagination, but they are indeed fig-mint brownies. Stranger things could happen- Just take my gradual acceptance of V-Day as proof.
For the recipe: Fig-Mint Brownies
Source: bittersweetblog.wordpress.com