on Thursday, April 4, 2013. Filed under:
Bark
,
Chocolate
,
Cookies n'Cream Peanut Butter Bark
,
Dessert
,
Food
,
Oreo
,
Peanut Butter
,
Peanut Butter Bark
,
Recipe
,
Vegan
,
Yum
,
Yummy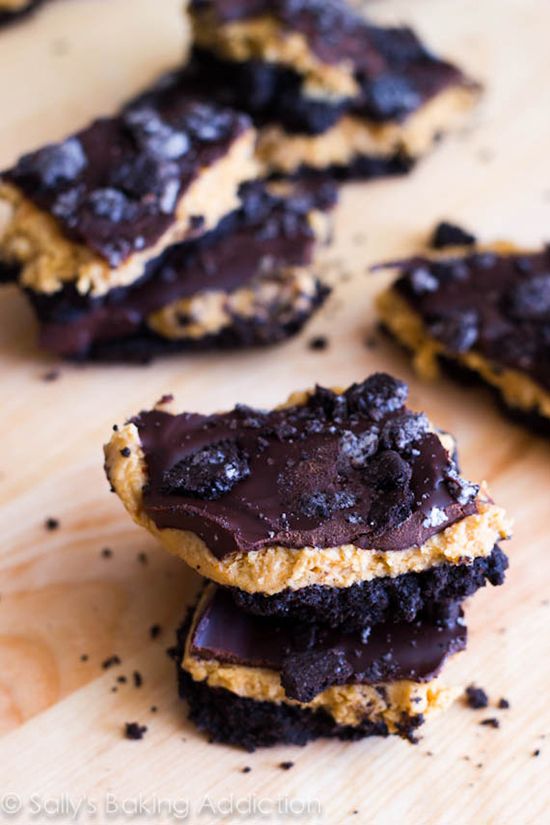 I can't even.
I'm currently writing to you knee deep in chocolate covered creamy peanut butter Oreo mania right now. Do NOT send help. I'll find my way out.
Reese's Peanut Butter White Chocolate Bark's darker twin sister is ready to be shared with the world. Warning: this stuff is messy, addicting, and decadent – in every wonderful way.
I adore making bark.  It's a mindless, no-bake way to literally add anything you want to chocolate.  All the little do-dads hiding in your pantry.  Chocolate bark is a cry from heaven when you have some holiday treats to make without all the time in the world.
Or when you just need a chocolate break – and you need it fast.
The same idea goes with fudge too.  The fudge world is your oyster – a wonderful chocolate base to add in anything your heart desires. Like cookie dough, cake batter (oh yeah), and candy canes.
 I personally love (read: loooove) peanut butter and Oreos together.  I know I'm not the only one who spreads peanut butter on top of Oreos. The combination of peanut butter and Oreos is what dreams are made of and you're getting a whole lot of both in today's recipe.
The bark was inspired by FOUR of my recipes.  A delightful plethora of my finest work, if you will. The whole bark-layering ordeal came from my Reese's Peanut Butter White Chocolate Bark – I made it for absolutely no rhyme or reason, literally threw white chocolate, peanut butter, and Reese's Pieces together. 10 minutes later? Amazing.
For the recipe: Cookies n'Cream Peanut Butter Bark
Source: sallysbakingaddiction.com